Spotlight on BougeRV: Powering Green Outdoor Fun in 2023
Introduction
At Eco-Friendly Explorers, our unwavering commitment lies in the exploration of the Earth while simultaneously safeguarding and conserving our planet for future generations.
We're excited to feature amazing products from our exceptional partners! When you purchase through our affiliate links, we may receive a referral payment at no extra cost to you. We take pride in highlighting products we genuinely believe in for our readers' benefit. For more info, please see our Disclaimer.
As ardent environmental enthusiasts, we take great pleasure in showcasing and applauding like-minded companies that contribute to our shared mission, enabling us and our cherished readers to embark on sustainable journeys of discovery. Together, we strive to impact the world we call home in a positive way.
Just because you're out exploring the great outdoors doesn't mean you always want to rough it. Sometimes you want to take the comforts of home along on your adventures too.
The challenge comes in keeping convenience and comfort but in a sustainable way. Luckily for customers, an array of companies are rising to meet the challenge, offering innovative eco-friendly solutions.
Among these trailblazers is BougeRV, a company that delivers environmentally responsible products and demonstrates its commitment to service to the community in times of crisis.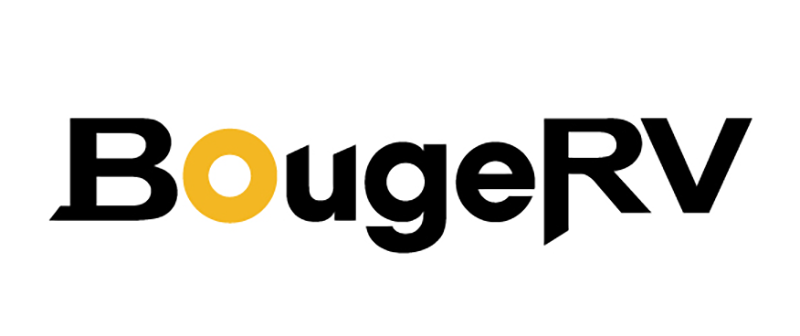 The Birth and Growth of BougeRV
A Brief History of the Company
Established in 2017, BougeRV was inspired by a chance encounter between James, an engineer with a deep love for the wilderness, and Pierre, a French traveler. Pierre opened James's eyes to the untapped potential of smart power solutions for outdoor appliances.
This seed of an idea blossomed into intensive research, testing, and interaction with RV enthusiasts, culminating in the birth of BougeRV. Today, the brand is synonymous with high-quality products that merge power, convenience, and sustainability, catering to the unique needs of outdoor travelers.
Mission and Vision
BougeRV operates on a clear and compelling mission: to empower outdoor enthusiasts to "live better, go further, and stay longer." But their vision transcends their immediate product offerings. They envisage a future where sustainability isn't a choice but a way of life.
By providing solar-powered solutions, BougeRV is leading the charge towards a world where dependence on renewable energy sources like solar power becomes commonplace.
BougeRV's Dedication to Sustainability and Community Welfare
BougeRV's steadfast commitment to building a sustainable future is apparent in every aspect of its business. However, their dedication goes beyond simply providing eco-friendly products.
In response to the devastating tornadoes that swept through Mississippi this year, BougeRV quickly assembled a team and donated portable solar panels, refrigerators, and energy storage systems to distressed communities.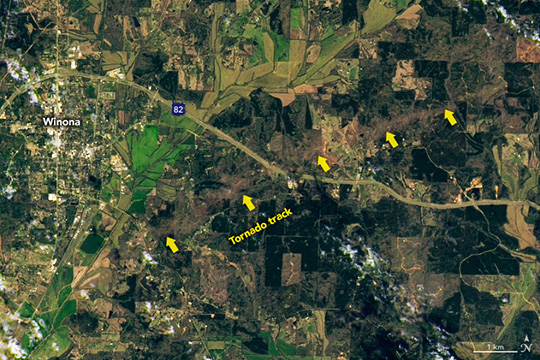 This generosity helped those in need and cemented BougeRV's status as a brand that genuinely cares about the community it serves.
A Closer Look at BougeRV's Diverse Product Portfolio
BougeRV prides itself on offering a diverse selection of innovative and sustainable products to meet the needs of environmentally conscious individuals. From their high-efficiency solar panel modules to their cutting-edge portable car refrigerators, manufacturer BougeRV has carefully curated a range of items that seamlessly blend modern technology with nature's beauty.
Picture this: you're at home, preparing for an exciting adventure amidst breathtaking natural landscapes. With BougeRV, you can embark on your journey knowing that your power needs are met effortlessly.
Their solar panels harness the sun's energy, ensuring you have a reliable and sustainable power source every step of the way. And when you're out exploring their portable car refrigerators keep your food and drinks cool, allowing you to savor delicious treats amidst the serene wilderness.
With BougeRV, you can fully embrace the great outdoors without compromising the comforts and conveniences of modern living. Their commitment to sustainability and quality craftsmanship shines through in every product they offer.
Discover the perfect companion device for your next adventure and experience the seamless integration of technology and nature with BougeRV.
Bougerv Solar Panels
At the heart of BougeRV's range lies a collection of extremely energy-efficient solar panels designed for outdoor enthusiasts. Discover the power of harnessing the sun's energy and unlock new possibilities for your adventures.
I am a particular fan of their Yuma line of flexible solar panels. These panels incorporate the latest CIGS technology (Copper Indium Gallium Selenide). And their Yuma 100 flexible solar panel got my Best Overall ranking for use on an RV or boat.
A standout feature of these panels is their adaptability – they can be affixed to various surfaces using the provided adhesive, conforming to the contours of the surface. And for those who value portability, these panels roll up neatly, making them a breeze to carry on your adventures.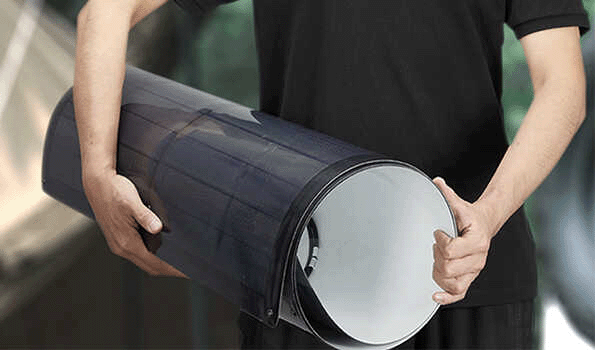 BougeRV hasn't forgotten about the fans of traditional solar technology, either! They offer top-quality Monocrystalline panels, ideal for long-term installations.
They have an amazing selection of portable solar panels in different capacities. And guess what? They even offer a foldable 100 Watt solar blanket that makes packing a breeze!
Explore their complete range of solar panels and find all the necessary accessories you require right here.
Bougerv Solar Controllers, Solar Inverters, and Batteries
Delving deeper into solar solutions, BougeRV stands at the forefront with its robust solar charge controllers. These aren't just any controllers; they're crucial guardians that ensure the longevity and efficiency of your solar panels and the batteries they empower.
Whether you're leaning towards the precision of MPPT (Maximum Power Point Tracking) or the consistent reliability of PWM (Pulse Width Modulation), BougeRV offers a comprehensive range to cater to your specific needs, ensuring your solar investment stays protected.
Follow this link to see which Bougerv controller is right for you.
Regarding power storage, BougeRV's 12V LiFePO4 (lithium iron phosphate) batteries deserve special mention. Designed for endurance and a lighter footprint, these 100Ah batteries stand out in their segment. And for colder climates, this battery comes in a self-heating variant, ensuring optimum performance even in low temperatures.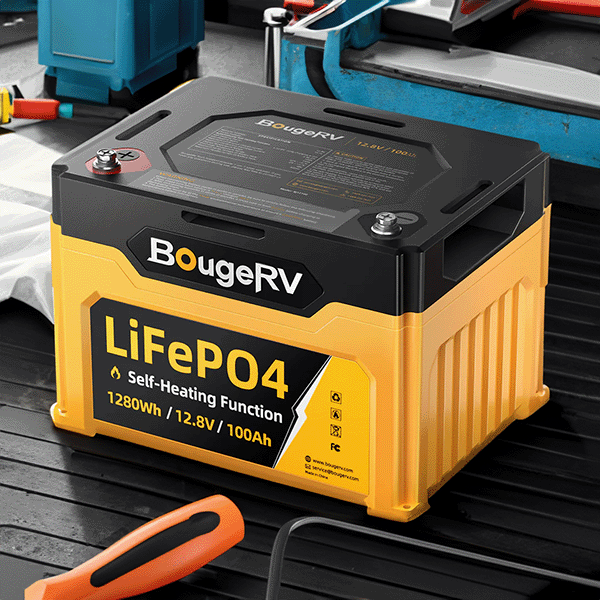 Completing the power ecosystem is the necessity of a dependable inverter. BougeRV's 2000W 12V Pure Sine Wave Inverter is a testament to efficiency and reliability. It ensures the power harnessed is delivered smoothly, making it an indispensable tool in any power setup.
Bougerv Power Station and Solar Generators
As an outdoor enthusiast, I'm always looking for gear that enhances my adventures and aligns with my commitment to sustainability. That's why I'm thrilled to share my experiences with the BougeRV Portable Power Station and Solar Generator – my go-to companions for all my outdoor escapades.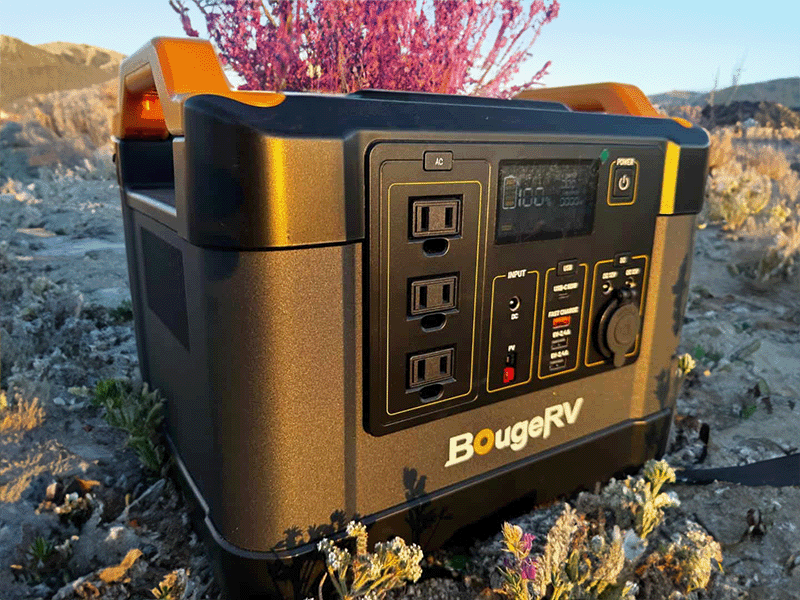 These devices have revolutionized my interaction with nature, providing reliable power while maintaining a firm commitment to environmental responsibility. Whether camping in the woods, hiking up a mountain, or enjoying a picnic in the park, these power solutions have made my life significantly more comfortable and enjoyable.
The BougeRV Portable Power Station impressed me right from the start. Its high-capacity lithium battery ensures I never run out of juice, even miles away from the nearest power outlet. It offers multiple charging options – AC outlets, USB, and car power ports – meaning I can fully charge all my electronic components, from my phone to my portable refrigerator.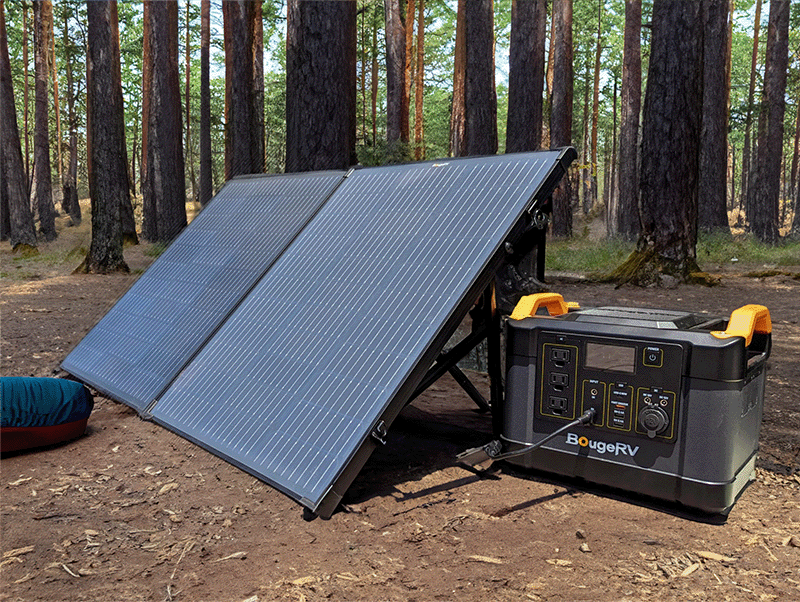 But what truly sets the power station unit apart is its ease of use. Despite its high-tech features, it's incredibly user-friendly. I can set it up within minutes and instantly start charging my devices.
On the other hand, the Solar Generator has been a game-changer in how I harness renewable energy. With its efficient solar panels, I can charge the generator during the day and use the stored power at night. It's a perfect example of sustainable energy utilization and remarkably simple to operate.
But here's the thing – these devices aren't just for camping or hiking trips. They're also perfect for emergencies and power outages.
During a recent storm that knocked out power in my area, the BougeRV Portable Power Station and Solar Generator were lifesavers. I could keep my lights on, my devices charged, my computer on, and my refrigerator running, all thanks to these dependable power sources.
If you enjoy the great outdoors, value sustainability, and appreciate the comfort of reliable power, I can't recommend the BougeRV Portable Power Station and Solar Generator enough. You can check out the newest models here.
Bougerv Portable Air Conditioners
Ok, I must admit, my first thought at seeing portable air conditioner units was, "Do we really need air-conditioned tents? Isn't that taking things too far?"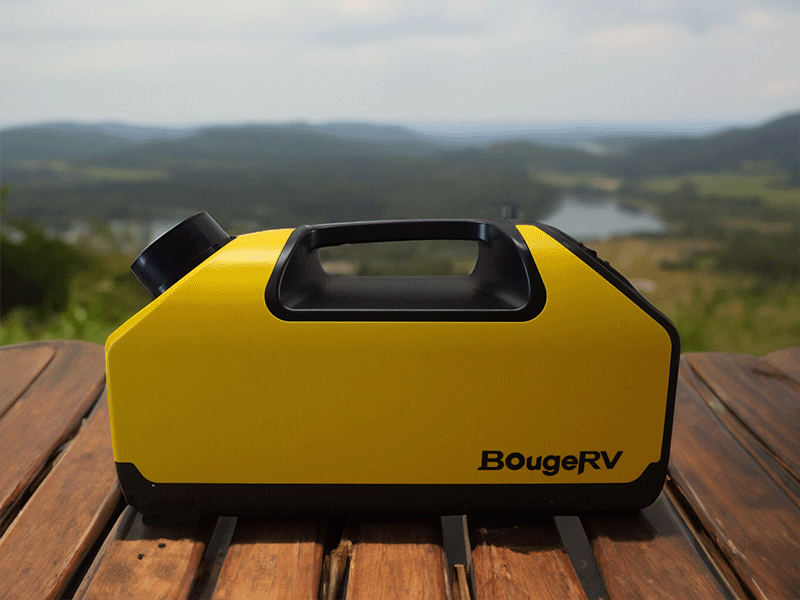 Then I went camping with an elderly family member. Yes, the RV had air conditioning, but we didn't want her to sit inside alone the entire time. With a portable air conditioner, we can set up a large, comfortable tent anywhere the action is.
Making the outdoors accessible and inclusive is a terrific goal. And the BougeRV 2899BTU portable air conditioner is perfect for the task. And with summers getting warmer and power outages becoming a regular occurrence, a portable air conditioner could possibly be a lifesaver as well.
Bougerv Portable Refrigerators
You know the importance of having access to fresh food and cold drinks during your adventures. Whether you're on a camping trip, a road trip, or attending an outdoor event, an efficient cooler is indispensable. That's where the BougeRV portable refrigerators come in.
I mentioned my portable refrigerator earlier, and let me tell you, it's a huge step up from a traditional cooler when it comes to outdoor convenience. Available in a range of sizes and styles, there's a BougeRV portable refrigerator to suit any situation, whether you're planning a solo adventure or a family outing.
One of the standout features of the BougeRV electric cooler is its energy-efficient design. It operates on low power consumption, making it an eco-friendly choice for conscious consumers. Moreover, it offers versatile power options.
You can run a BougeRV portable fridge on AC, DC power from a plug, your car battery, portable power stations, and solar energy, making it perfect for off-grid adventures.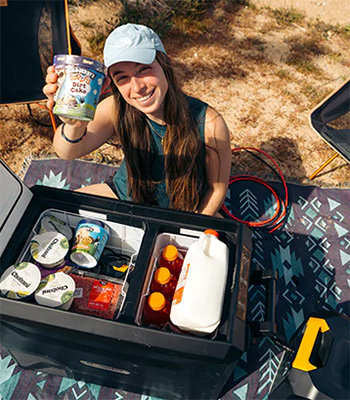 But the benefits don't stop there. Thanks to their dual-zone temp range feature, the new BougeRV Aspen series portable fridges ensure your food and drinks stay at the right temperature. This allows you to keep the drinks cold and still have ice cream. Because ice cream!
Furthermore, the BougeRV cooler boasts a low-noise rating. So, you can enjoy the peace and tranquility of the outdoors without any disturbance on your camping trips. I love the digital display is another user-friendly feature that lets you control the settings and monitor the temperature setting effortlessly. The CR series even has a smartphone app that controls the temperature.
Sure, a portable refrigerator has slightly less capacity than similarly sized coolers, but with all the features, you won't miss the extra space on your road trips. Did I mention ice cream?
Ditch the old-fashioned coolers and ice routine. Portable refrigerators are a big deal and totally worth the investment. You can see your next portable fridge here!
BougeRV: An Ally for Environmentally Conscious Adventurers
For outdoor enthusiasts who prioritize sustainability and seek a deeper connection with nature, BougeRV goes beyond simply offering a range of products – it provides a complete lifestyle experience.
With their innovative solutions, adventurers can seamlessly merge their love for the outdoors with the convenience and benefits of modern technology.
Each product is meticulously designed, keeping the end user's needs at the forefront. From eco-friendly materials to enhanced comfort features, BougeRV ensures that every outdoor experience is not only enjoyable but also environmentally conscious.
So, embark on your next adventure with BougeRV and immerse yourself in a world where sustainability and outdoor exploration harmoniously coexist.
Customer Testimonials and Reviews: A Testament to BougeRV's Impact
BougeRV receives fantastic reviews from its customers as well. On Trustpilot, BougeRV scores an overall rank of Excellent with 4.3 stars, and an impressive 76% of reviewers give them an overall score of 5 stars. ReviewMeta, which is a site that compiles an aggregate review score from Amazon, gives them a similar adjusted score of 4.4 stars. At EcoFriendly Explorers, we couldn't agree more.

Asuse the various reviews, I am delighted to discover that my own feelings of contentment with BougeRV are echoed repeatedly. It is evident that this reputable company consistently delivers high-quality products and provides exceptional care and support to its valued clients.
I am thoroughly impressed by their unwavering commitment to customer satisfaction and their dedication to delivering excellence in every aspect. It is truly a pleasure to experience such a remarkable level of service and product reliability.
Any company that does business with the public will inevitably get some bad reviews as well. Things go wrong, employees make mistakes, and supply chain issues occur (especially in the recent past!). Sometimes people can just be impossible to please.
But I was impressed to see that when BougeRV gets a bad review, more often than not, they respond, not by pushing off blame, but with an apology and an offer to try and make things right. To me, that's a mark of excellent customer service.
Perhaps the positive impact of BougeRV's efforts can be best gauged through the words of their beneficiaries affected by Missippii tornados. Wayne Knox, director of the Amory Regional Museum in Mississippi, expressed his gratitude, stating, "Thank you so much to BougeRV and your team for sending these supplies to us. We can provide these to our first responders and our medical communities, ensuring vital resources reach those who need them most."
Conclusion: Reflecting on BougeRV's Journey and Looking Ahead
As BougeRV nears its sixth anniversary, it is a shining example of how businesses can harmoniously blend sustainability, quality, innovation, and compassion.
For those who have a passion for the outdoors and believe in solar energy's transformative power, BougeRV offers products and an entire journey. It's a journey that promotes empowerment, sustainability, and limitless outdoor adventures, all while minimizing our carbon footprint.
With their continuous evolution, innovative spirit, and unwavering support for their community, BougeRV is undoubtedly a brand to keep an eye on in the coming years.